I'm back! Quick update on my dad: He came home from the hospital two weeks ago tomorrow. He is doing so much better. He has a doctor's appointment on Tuesday, and I'm anxious to see how that goes. Hopefully, they will send the recommendation for him to begin cardiac rehab, and he can get started on that after Thanksgiving.
It is currently sleeting outside with no chance of it stopping until some time tomorrow afternoon. So, obviously, it's cold out there. All the dogs are burrowed under blankets except for Roxy, so I managed to snap a picture of her, which isn't easy to do!
Now, on to the Sunday Currently link-up with
Lauren
. I haven't participated in this for a while, so I thought it would be a good way to jump back into blogging.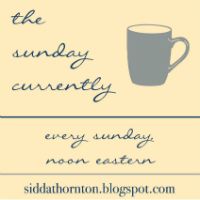 READING
-
Dark Places by Gillian Flynn...This has been a slow read for me. It's good so far; I just haven't gotten into it like I did with Gone Girl. I'm planning on reading some more of it after I finish this post.
WRITING
- A list of possible Christmas gift ideas for family...it will be here before I know it!
LISTENING
- To the rotation of the fan and the faint sound of the TV in the living room
THINKING
- That I need some winter clothes!
SMELLING
- Farm House Cider Sprinkles from Pink Zebra...such a yummy smell!
WISHING
- For a positive phone call this week
HOPING
- My swap partners are announced soon
WEARING
- Black exercise pants, comfy blue t-shirt, and zebra print slippers
LOVING
- The time I got to spend with Mallory and Emily yesterday at lunch and Color Me Mine (more details about that AFTER Christmas)
WANTING
- Lunch...I'm hungry
NEEDING
- A new charger for my phone...I left mine plugged into the wall, and it melted the part you stick in the phone!
FEELING
- Thankful. I know I should feel thankful all year round (and I do!), but something about the holidays makes me think about everything I love and am thankful for. Things that can't be bought with money. Things you sometimes don't really appreciate until they're gone. Things you take for granted every single day.
CLICKING
- On Amazon Wish Lists and Pinterest for gift ideas
That's all I've got for today! I think I'll be posting again before Thanksgiving, but if not, I hope you all have a wonderful time with your family and friends.