Happy Super Bowl Sunday! Who am I rooting for? Well, I like John more than Jim. Go Ravens! Today I am linking up with
Neely
and
Ashley
for Sunday Social, and it's all about the number two.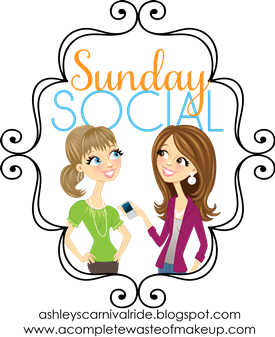 If you were stuck on an island, what are the two material items you would want to have?
Sunscreen and sunglasses...very practical choices, huh? ;-)
What are two TV shows you'd watch over and over?
Arrested Development and Being Human (UK version)
If your house was on fire what two things aside from family, pets, etc would you grab?
I have this big pink box where I keep all my important papers, so I would grab that and my purse.
What are your two most favorite articles of clothing?
I don't have two personal favorites of my own, but I LOVE scarves and cardigans. All kinds!
What two movies that you saw in the past year would you recommend to us?
Bernie and Jim Gaffigan's Mr. Universe
What are your two biggest guilty pleasures?
First, Dance Moms...I hate how Abby treats those little girls and that the moms keep them there, but I CAN'T. STOP. WATCHING. Second, One Direction's music...I'm certainly not as obsessed with them personally as I was back in the day with *NSYNC. You know what I'm talking about...knowing their favorite movie, dates of birth, middle names, thinking you would grow up to marry them, that sort of thing...Yeah, none of that going on with 1D, but if one of their songs comes on the radio, I will be singing along.
That's it this week for Sunday Social. Thanks for reading, and everyone have a great Super Bowl Sunday (or Puppy Bowl Sunday if that's your thing)!