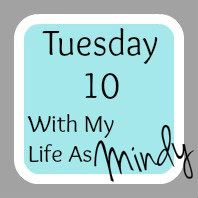 Time to link up for Tuesday10 with Mindy...this week's theme is your favorite handmade shops. Today, I would like to share my list of favorite
Etsy
shops and
Teachers Pay Teachers
sellers. Now, being a substitute teacher doesn't really leave me with a lot of disposable income, so I haven't bought things from many of these places. Although, I do have my eye on different things from their stores.
**For the sellers from Teachers Pay Teachers, I've included links to their blogs in addition to the links to their TPT stores.
1.
Adeline Mae Design
: When I lose my first 20 pounds, I really want to buy myself one of the 20 bracelets. She also has bracelets for racers: 13.1, 26.2, TRI, and she will do custom orders.
2.
Ricci Alexis Designs
: I first discovered Ricci's blog,
Ricci Explains It All
, and then I found out she makes wreaths and sells them on Etsy! I love this pink one with the leopard print bow, and when I get a full-time teaching position, I would like to buy one for my classroom door.
3.
Clearique Boutique
: For Christmas last year I ordered a necklace for my grandma from this seller. I can't find a picture of the one I ordered, but it had all her grandchildrens' names stamped on it with beads representing our birthstones. My grandma loves it and wears it all the time. The one I ordered looks similar to the one below except it was a necklace instead of a keychain.
4.
Peace Love Freckles
: I love this colorful and funky metal art company! I really want one of the owls or an initial or hey, maybe even both of them!
5.
Ruffles With Love
: I found out about this store from
Mama Laughlin
, and this past month I asked
FatChick2FitChick
where she got one of her workout shirts to which she replied, "Ruffles With Love!" I go to this store at least once a month to look at which shirts I would like to buy. These two are a couple of my favorites.
6. Ashley Hughes from
The School Supply Addict
: The Fry Words Mega Pack is one of her many products that I have on my TPT wish list.
7. Deanna Jump from
Mrs. Jump's Class
: Deanna Jump has made over a million dollars with the products she has created and sold on TPT! She is such an inspiration! If I am fortunate enough to have my own classroom next year, I will definitely be starting the year with her Back to School Math and Literacy Fun unit.
8. Katie King from
Queen of the First Grade Jungle
: I love her 'Busy Teacher's Best Friend' units. Both the Thanksgiving and Christmas products are on my wish list.
9.
Clutter-Free Classroom
: The CFC Teaching Classroom Procedures and Routines Workbook was one of the first purchases I made on TPT. It has 38 pages chock-full of procedures and routines to teach the students in your class. This will be a wonderful resource for me when I am in my own classroom.
10. Hope King from
Second Grade Shenanigans
: Her 100th Day Craze packet is on my wish list and includes 91 pages of resources for celebrating the 100th day of school.
Disclaimer: I was not compensated for any of this. Considering I only have four followers at the moment, it will probably be a while before I'm contacted to do anything for compensation. :-D