Today I'm linking up for the first time with
Mindy
for the Tuesday10! This week's prompt is 10 Things You Can't Live Without. I thought it would be difficult for me to create this list, but I had my 10 things in less than 10 minutes!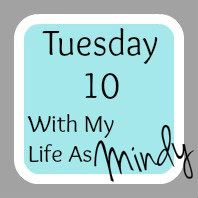 10 Things I Can't Live Withou
t
1. my relationship with God
Mallory (my sister), Emily (my cousin), and me
I loved making this list! I can't wait to see what next week's prompt will be. Tell me, what are some things YOU can't live without?