Happy Fat Tuesday! I am subbing in a second grade bilingual class today. I love the school it's at, so I'm ready for an exciting day.
Since it's Tuesday, that means a link-up for Tuesday10 with
Mindy
. Tuesday10 is one of my favorites to do during the week. This week's theme is your favorite Valentine moments (from the movies or your own life). Well, I don't have too many personal Valentine moments, so I played with the theme a little bit and decided to make a list of my favorite couples from movies and TV.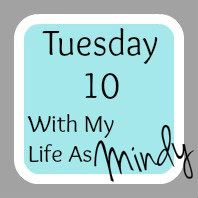 2. Princess Buttercup and Westley
4. Angelique and Jean-Rene
from Romantics Anonymous
5. Charming and Snow
from Once Upon a Time
6. Nickie and Terry
from An Affair to Remember
7. Sheldon and Amy
from The Big Bang Theory
8. Captain Von Trapp
and Maria
9. Eric and Tami Taylor
from Friday Night Lights
from Beauty and the Beast
Lovely couples, don't you think?
Feel free to leave a comment, and let me know which couples you love to

watch
!