Happy Friday everybody! I wanted to let you know about a swap I will be participating in. Pamper Me Pretty is a swap that is being hosted by Melissa at
Dreams and Colour
and Lacey at
Charm and Sass
.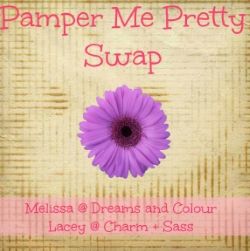 This swap is all about getting pampered and feeling pretty! It is your job to find out what makes your swap partner feel pampered and pretty. It could be anything from a mani/pedi kit to a bubble bath to scented candles. Send a lovely package to your partner, and you'll get one in return!
You have until April 10th to sign up, so go check out all the details! You can click the button above, or click
HERE
to go straight to the swap post.
This is my first swap ever, so I'm pretty excited about it! Come join us! Maybe we'll end up swap partners!