Today I am linking up with
Jessica
and
Mia
for The Book Chat. I found out about The Book Chat link-up from Mia, and today's theme is children's books. I knew I had to do it because 1) I love to read and 2) being a teacher, I've read A LOT of children's books.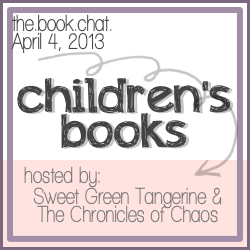 Sweet Valley Kids
series by Francine Pascal: I loved these books as a child! My summer afternoons were either spent at the pool or curled up on the couch at Nan's reading these books. I remember checking out 4-5 of them from the library at a time because I would read one a day.
Chrysanthemum
by Kevin Henkes: This is one of my favorite books to read at the beginning of the school year. Chrysanthemum thinks her name is absolutely perfect until she starts school and is teased by three of her classmates because of it. As the story progresses, her pregnant teacher tells the class that she is named after a flower too and that she is going to name her daughter Chrysanthemum. The students begin to accept Chrysanthemum, and she realizes that she is special no matter what others may think.
Officer Buckle and Gloria
by Peggy Rathmann: Kids love this book because of Gloria's crazy antics. This is a good book to read when teaching students how to stay safe.
The Forever Dog
by Bill Cochran: I've never read this one to a class of students. When it showed up at my door from Amazon, I quickly opened it and read it. By the end, I was bawling like a big baby. Such a sweet story about a boy and his dog! I still tear up each time I read it.
The Keeping Quilt
by Patricia Polacco: Patricia Polacco is one of my favorite children's book authors, and my absolute favorite book of hers is this one. It is the true life story of her family that emigrated from Russia and the quilt crafted by her great-grandma that has been passed down from generation to generation.
What were some of your favorite books to read as a child? If you have children now, what are some of their favorites? I'm always on the lookout for new books to read!