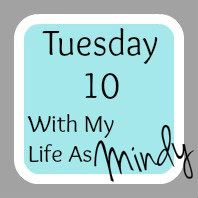 I haven't linked up with
Mindy
for Tuesday10 since February, so I thought I would today and share 10 things I would like to accomplish in April.
1) Read 3 books
2) Lose 8 pounds
3) Celebrate my mom's 50th birthday
4) Sign up for a swap
5) Try a new restaurant
6) See a movie at the theater
7) Register for a Color Run
8) Get my eyebrows threaded or waxed
9) Stay off Facebook for one week
10) Go to a hockey game
At the end of the month, I'll write an update, and let y'all know how I did. Feel free to make your own list, or tell me in the comments what you would like to accomplish this month. I would love to know!